An upcoming new attraction in Townsville powered by solar energy is, well, beauty is in the eye of the beholder as they say.
Two "solar trees" ranging in height from eight to twelve metres tall are to be installed along Ross Creek between North Queensland Stadium and Townsville city centre. According to Queensland Treasurer Cameron Dick, one will be a "rain tree" that will provide an "interactive water experience". It's assumed that means visitors will be able to get wet.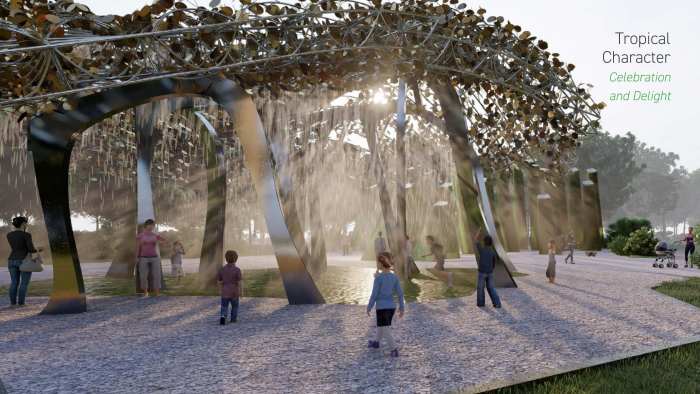 It's not clear from the QLD Government statement what the green thingies do1 aside from holding up the solar panels that will power the installation and some offering seating. Judging by the shadows in the artist's impression they don't host lights; with the light source coming from elsewhere.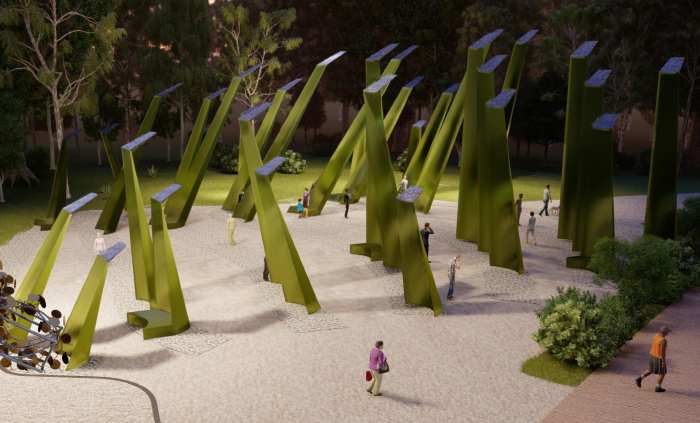 At $8 million dollars, it's a pretty pricey project. The Palaszczuk Government is kicking in $6.5 million, while Townsville City Council is contributing $1.5 million.
"Initial estimates have shown this project could inject $8 million into our local economy and support almost 120 direct and indirect jobs, which is a huge boost to our construction industry on the back of the COVID-19 pandemic," said Townsville Mayor Jenny Hill.
The $8 million economic boost matching the cost is a very fortunate coincidence. Mayor Hill says the project will encourage those visiting the stadium to make the walk to Townsville's CBD "just to experience such a beautiful visual show".
"This is a completely unique attraction that is perfect for our region thanks to using solar power to run," states Cr. Hill.
Having the artistic flair and art appreciation skills of a potato, I really don't know what to think of this project overall – but seeing solar power being used in different ways is always interesting and generating jobs is a good thing, particularly in these troubled times. If it also inspires some to look into going solar, even better.
My only other thought is $8 million buys a lot of solar panels that could be used to generate electricity to power a bunch of Council facilities (and also generate a bunch of jobs) – but I guess that's kind of dull and won't attract tourists. $8 million could also buy a lot of real trees.
On a related and arguably more practical note, last month we mentioned Townsville City Council was inviting proposals for shading using solar panels for car parks and footpaths between the Stadium Precinct and Townsville's CBD.